SDB Series Rotary Lobe Blowers
These compact and well-balanced direct-drive rotary lobe blowers are designed to provide efficiency in a range of industrial applications. Their vertical design comes in handy when space is limited. The SdB Series are tri-lobe blowers, known for their ease of installation and quiet operation, with average noise levels ranging from only 58-84 dBA. They cause minimal vibration during operation. The dry compression chamber provides an oil-free source of compressed air for pressure applications. The blower construction consists of a direct coupled, flange-mounted motor operating at 1750 RPM. This eliminates the use of vee belts and associated vee belt maintenance. Pressures up to and exceeding 8.5 PSIG can be achieved.

Comes as a complete package with all necessary components included.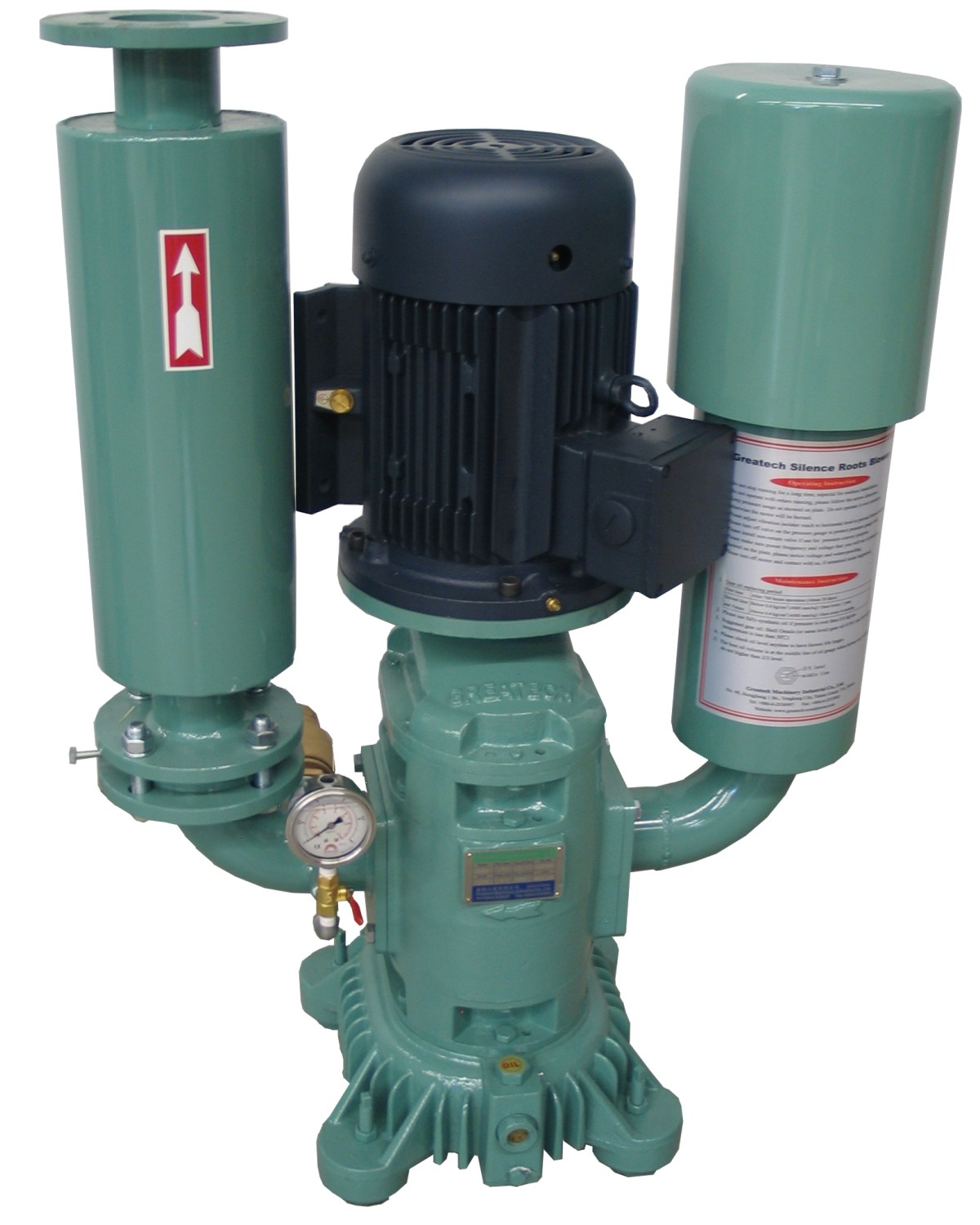 Features
Powered by direct flanged motor
Lobes used to perform blowing mechanism
Low noise and vibration levels during operation
Intake filter and discharge silencer support reduced noise levels
Vibration isolation mounts for silent operation
No Vee belts to maintain
Pressure to 8.5 PSIG
380-775 CFM capacities
3-40 HP
1750 RPM direct drive
Noise levels from 78 to 84 DB
Competitively priced
1 year warranty
Components Included
Tri-lobe cast iron blower

Intake filter/silencer

Discharge silencer

Discharge pressure gauge

Outlet check valve

Outlet flexible connector

Pressure relief valve

Vibration isolation mounts

Direct drive, close coupled motor

Applications
Fish farm aeration

Aquaculture

Wastewater treatment

Chemical agitation

Soil remediation

Plating tank agitation

Pneumatic conveying

Many more

| Model Number | Capacity | Maximum Power | Maximum Pressure | Noise Level | Voltage | Brochure PDF |
| --- | --- | --- | --- | --- | --- | --- |
| SDB40 | 36-22 CFM | 1.01 kW 1.5 hp | 8.5 psig | 58 dBA | 1/60/120-230 V 3/60/208-230-460 V 3/60/575 V | Download |
| SDB45 | 78-60 CFM | 2.14 kW 3 hp | 8.5 psig | 60 dBA | 1/60/120-230 V 3/60/208-230-460 V 3/60/575 V | Download |
| SDB50 | 78-60 CFM | 2.14 kW 3 hp | 8.5 psig | 64 dBA | 1/60/120-230 V 3/60/208-230-460 V 3/60/575 V | Download |
| SDB60 | 96-78 CFM | 3.35 kW 5 hp | 8.5 psig | 67 dBA | 1/60/120-230 V 3/60/208-230-460 V 3/60/575 V | Download |
| SDB65 | 115-89 CFM | 3.6 kW 5 hp | 8.5 psig | 69 dBA | 1/60/120-230 V 3/60/208-230-460 V 3/60/575 V | Download |
| SDB75 | 158-115 CFM | 4.8 kW 7.5 hp | 8.5 psig | 72 dBA | 1/60/230 V 3/60/208- 230-460 V 3/60/575 V | Download |
| SDB80 | 204-170 CFM | 6.8 kW 10 hp | 8.5 psig | 74 dBA | 1/60/230 V 3/60/208- 230-460 V 3/60/575 V | Download |
| SDB90 | 270-210 CFM | 11.2 kW 15 hp | 8.5 psig | 76 dBA | 3/60/208-230-460 V 3/60/575 V | Download |
| SDB100 | 375-298 CFM | 13.5 kW 20 hp | 8.5 psig | 78 dBA | 3/60/208-230-460 V 3/60/575 V | Download |
| SDB110 | 440-368 CFM | 15.7 kW 20 hp | 8.5 psig | 80 dBA | 3/60/208-230-460 V 3/60/575 V | Download |
| SDB150 | 780-675 CFM | 29.7 kW 40 hp | 85 psig | 84 dBA | 3/60/208-230-460 V 3/60/575 V | Download |