Rotary Scroll-Type Air Compressors
A product of true innovation, these pumps have been designed to suit your operational needs. Get reliable performance for crucial air quality applications. Can be operated at 100% duty with confidence. Compact, self-contained packages require minimal floor space. Designed to allow for low vibration operation and are available in attractive cabinet enclosures for noise sensitive areas.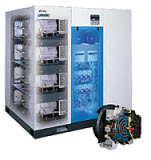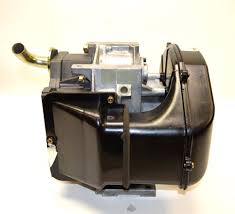 Features
Main bearings in durable cast iron to prevent fretting and premature failure of bearing race

Patented bearing re-grease, equipped for maintenance from front of pump for significant time savings

Patented tip seal design yields the highest flow rates and longevity of any other dry scroll compressor

Improved efficiency and cooling for lower operating temperatures

Large centrifugal cooling fan improves efficiency for optimum heat removal and lower operating temperatures

Fewer moving parts for longer service life

No expensive filter replacements required


Dynamically balanced orbiting scrolls allow for low noise levels and minimal vibration
Powerex Variable-Pump-Drive
With the Powerex, each compressor pump is automatically staged on/off individually based on actual system demand. Energy efficiency is maximized at all usage levels. Lead compressor status will alternate when lead pressure demand is satisfied, or every 10 minutes, whichever comes first. This will maintain equal run hours and extend maintenance intervals.

Cabinet Specs
3-5 HP Simplex Models

Extremely quiet sound enclosure: 49-51 dB(A)

Integral 13 gallon tank ASME / CRN

Inlet filtration with replaceable element

Internal vibration isolators

Air-cooled aftercooler

ODP Motor

Front mounted control panel includes:

On / Off switch

Power on light

Compressor run light

High temperature shutdown with indication light

Run time hour meter

Pressure gauge

Automatic start/stop operation

Full voltage starter with motor overload protection

Applications
Food and beverage

Pharmaceutical

Chemical

Textile

Electronics

Dental

Laboratory

Utilities

Sound Enclosure Cabinet
Each system is packaged in a rigid steel frame with powder coated panels and lined with sound deadening insulation. The low noise levels are unmatched in the industry and allow the compressor to be installed right at the point of use. Our small footprint maximizes your floor space.
Accessories and Options
Air Receivers 30-600 Gallon

Corrosion resistant tank lining

Auto tank drains

Desiccant air treatment systems

Refrigerated air treatment systems

Remote inlet filters

Master lead/lag controllers for multiple cabinets

NFPA 99 Compliant Systems

Laboratory system packaging

Air quality monitors (CO, Dewpoint)


Special motors (premium efficient, 50Hz)
Custom Package and Design Options Available
| Model Number | Motor Power | Flow Rate Capacity (@ 100 psig) | Maximum Pressure1 | Operating Pressure Range | Noise Level | Integral Receiver | Discharge Connection | Length | Width | Height | Weight | Brochure PDF |
| --- | --- | --- | --- | --- | --- | --- | --- | --- | --- | --- | --- | --- |
| SES0308 | 3 hp | 8.8 SCFM | 116 psig | 95 to 115 psig | 49 dBA | 13 gal | 3/8 in | 34 in | 21 in | 33 in | 310 lb | Download |
| SES0508 | 5 hp | 15.2 SCFM | 116 psig | 95 to 115 psig | 51 dBA | 13 gal | 3/8 in | 34 in | 21 in | 33 in | 335 lb | Download |
| SED1007 | 10 hp | 30.4 SCFM | 116 psig | 95 to 115 psig | 53 dBA | | 1 in | 38 in | 28 in | 62 in | 825 lb | Download |
| SET1507 | 15 hp | 45.6 SCFM | 116 psig | 95 to 115 psig | 56 dBA | | 1 in | 38 in | 28 in | 62 in | 965 lb | Download |
| SEQ2007 | 20 hp | 60.8 SCFM | 116 psig | 95 to 115 psig | 58 dBA | | 1 in | 38 in | 28 in | 62 in | 1125 lb | Download |
| SEH3007 | 30 hp | 91.2 SCFM | 116 psig | 95 to 115 psig | 59 dBA | | 1.5 in | 58 in | 45 in | 65 in | 1945 lb | Download |
| SEO4007 | 40 hp | 121.6 SCFM | 116 psig | 95 to 115 psig | 60 dBA | | 1.5 in | 58 in | 45 in | 65 in | 2320 lb | Download |
| SES0308HP | 3 hp | 7.1 SCFM | 145 psig | 125 to 145 psig | 45 dBA | 13 gal | 3/8 in | 34 in | 21 in | 33 in | 310 lb | Download |
| SES0508HP | 5 hp | 12.5 SCFM | 145 psig | 125 to 145 psig | 51 dBA | 13 gal | 3/8 in | 34 in | 21 in | 33 in | 335 lb | Download |
| SED1007HP | 10 hp | 25 SCFM | 145 psig | 125 to 145 psig | 53 dBA | | 1 in | 38 in | 28 in | 62 in | 825 lb | Download |
| SET1507HP | 15 hp | 37.5 SCFM | 145 psig | 125 to 145 psig | 56 dBA | | 1 in | 38 in | 28 in | 62 in | 965 lb | Download |
| SEQ2007HP | 20 hp | 50 SCFM | 145 psig | 125 to 145 psig | 58 dBA | | 1 in | 38 in | 28 in | 62 in | 1125 lb | Download |
| SEH3007HP | 30 hp | 75 SCFM | 145 psig | 125 to 145 psig | 59 dBA | | 1.5 in | 58 in | 45 in | 65 in | 1945 lb | Download |
| SEO4007HP | 40 hp | 100 SCFM | 145 psig | 125 to 145 psig | 60 dBA | | 1.5 in | 58 in | 45 in | 65 in | 2320 lb | Download |